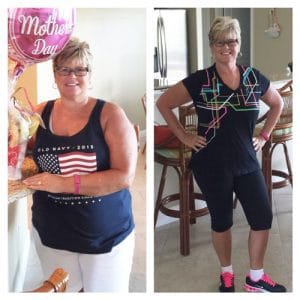 "I'm so glad I made that phone call to Toledo Blade Weight Loss Center. It has really changed my life for the better. I've lost 50 pounds so far and I feel great. I'm more confident and have lots more energy than I've had in a very long time. I meet every week with Paige and she has been so helpful and knowledgeable about the program and has coached me throughout this journey. I can't thank her enough. Actually the whole staff is great. It's a pleasure to walk in the office and be greeted by Barb and get an appointment reminder call every week from her. Thank you Barb!! Dr. Neumann you have a great team!! Thanks for all the support!!"
- Debbie Loving
---
"After having my son almost 18 months ago, I was struggling to lose the last 20 lbs. of baby weight. I'd tried many diets, but the scale wouldn't budge. And truth be told, I'd developed some pretty bad habits that were hard to kick (ahem, ice-cream). The protocol at Toledo Blade weight Loss provided the structure and accountability that I needed to lose the weight. The doctor and staff are extremely nice. Paige was my counselor and she is the very definition of tough love! She helped me stay on track and motivated. I'm so glad I found Toledo Blade Weight Loss."
- M.D.
---
"Dr. Neumann and staff,
I wanted to say "thank you" for the awesome help you gave me as I just couldn't stick to a diet these last few years. Your guidance and HCG Injections helped me stick to it. I not only lost the 10 LBS in that month, but have continued to lose another 9 LBS on my own.
If I get beyond my weight limit I prefer to be at, I will be back. Thank you again! Your product really does work!"
- I.S
---
"I was at work one day and noticed that one of my coworkers looked like she had lost some considerable weight. Curious, I asked her what she was doing. She proceeded to tell me about HCG and this fabulous Doctor she found. I listened intently and when I went home I did some extensive research on this Clinic and HCG. After reading as much as possible about the protocol, I decided to make an appointment.
When I walked into Toledo Blade Weight Loss I must admit I was feeling a little scared and slightly intimidated. After all, in know it worked for my coworker, but how was this plan going to work on me and be any different from all the countless others I had tried?
I was warmly greeted by Barb (you will absolutely love her!!) and then met with Deb who immediately made me feel at ease and very comfortable. She went through the program step by step, explaining exactly what it would entail. I decided on the spot that I wanted to make the commitment to do this and finally lose weight!!
Here's the absolute great thing about going to Toledo Blade Weight Loss- aside from the great staff and the remarkable achievements you will reach- you are monitored by Dr. Neumann all the way through. Starting off with extensive blood work, right through getting your blood pressure checked each week. You will receive weekly support from your Counselor (I have Angela who is an absolute doll!!) and you will be weighed and measured.
But here's the bottom line- I am now in the 8th week of my 10 week protocol, and I am so proud to say that I have lost 25lbs and 25"!!!!!!!!!!! I have gone from a size 16 to a size 8. I feel great and now have the energy to exercise to go beyond what I originally wanted to lose!
If you have struggled everyday with your weight- if you've ever been totally frustrated and disgusted with yourself because you feel you can't lose weight, I urge you to go and talk to this staff!! Is this a simple easy plan- yes and no. but I can tell you this – if you follow the plan to the letter and do/eat everything that is required – YOU WILL LOSE WEIGHT AND INCHES!! It's just that simple. Take the plunge – the consultation doesn't cost a thing, but your time. Do this for yourself!!!"
- D.S
---
"Thank you for helping me take off 30 lbs. in 30 days. I feel so much better, have a lot more energy. Need a new tailor though. Your program really works. I can't believe what I see in the mirror. Your stuff was very helpful and gracious, thank you so very much."
- R.C
---
"I have been overweight for a long time and when I received the mail flyer for Toledo Blade Weight Loss. My thoughts, I'm going to try one more time but I know support was needed. And yes Dr. Neumann and the team at Toledo Blade Weight Loss gave me the support that was needed. I have lost in 7 weeks and 5 days 65.5 lbs. I'm walking more, 1 ½ miles per day. It's been a great experience. And I'm eating the right foods and feel 100% better and plan to lose even more weight. Thanks to Toledo Blade Weight Loss and staff for your support."
- J.S
---
"I am so thankful that I found Toledo Blade Weight Loss. I was skeptical at first because I had done other weight loss programs. After I started the protocol I could see the weight coming off day by day. Barbara explained the program and I started that day. By my first meeting with Paige (who will keep you in line) I had lost 7 pounds. I reached my goal weight at the end of the program. A total of 45 lbs. and 21 inches overall. I learned how to eat healthy and what to eat. Dr. Neumann explained the shots and how they would help give me energy and not be hungry. I would recommend this program to anyone who wants to change their life and live a healthy lifestyle."
- J.R
OFFICE HOURS
---
Monday
9:30am - 5:00pm
Lipo Injections Only
---
Tuesday
9:30am - 5:00pm
---
Wednesday
9:30am - 5:00pm
---
Thursday
9:30am - 5:00pm
---
Friday
Closed
---
Saturday
Closed